One Hot Summer Day
FOR THE WEEKEND, share this summer title with your child.
One Hot Summer Day is appropriate for children of all ages.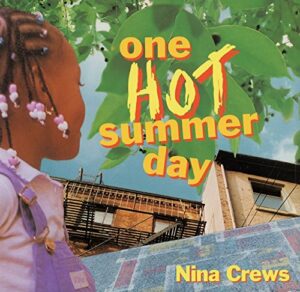 Summary:
One Hot Summer Day brings the heat and the cool when a little girl plays outside on a hot, summer day. Follow along as the little girl explores the neighborhood with dogs panting and ladies holding umbrellas for shade as she teases her shadow and eats popsicles. Relief from the heat comes in big, dark thunderous clouds as a summer storm fills the sky. Nina Crews' simple text and photo-collage images radiate summer the whole way through.
Practice this Comprehension Strategy-Retelling:
After you read One Hot Summer Day ask your reader to take a turn and tell the story to you. Let them lead the way, flipping the pages and narrating the text and pictures. By engaging with the book in a more interactive role your reader will be more invested in the entire book sharing experience.
Do this with your child:
Before you read One Hot Summer Day set up a space to read together outside. This could be on a blanket in your back yard, at a local playground or park, or even at the beach. You will be able to ask your reader questions about how they're relating to the little girl in the story, are they too hot to swing, can they escape their shadow in the sunshine, etc. By engaging with a book in a new setting your reader will be experiencing it in a different way than when you share books on your couch or in bed. Take advantage of the summer weather
If you're interested in sharing One Hot Summer Day with your child you can find it from Greenwillow Books, an imprint of Harper Collins Publishers, here.
Click here to learn more about Raising a Reader and the work we do to promote early literacy and family engagement.