One Frog Sang
FOR THE WEEKEND
, share this title with your child. 
One Frog Sang
is appropriate for children of all ages.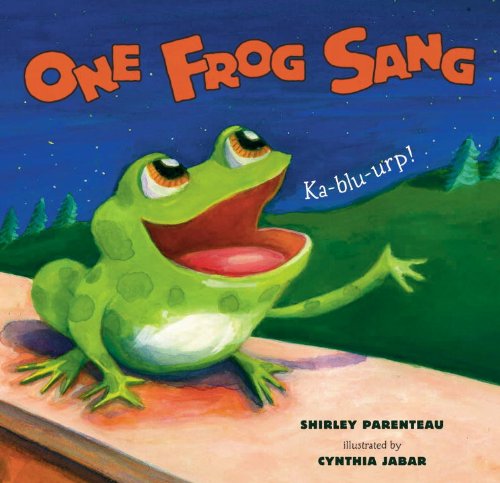 Summary:
One Frog Sang 
is a fun and playful book about a group of frogs on a rainy spring night. What starts with one frog singing a big Ka-blu-urp and quickly turns into a chorus of ribbits, croaks and chirps as you read along and count from one to ten, and back down again. Your child will delight in the silly sounds and bright pictures from author Shirley Parenteua and illustrator Cynthia Jabar.
Practice this Comprehension Strategy-Sequencing:
One Frog Sang is a great book for your child to practice sequencing. Sequencing is putting events in order. After you read go back through the pages with your child to recap which frogs made which sounds. As you do this, ask if they remember what sound comes next and the number of frogs making that sound. 

Do this with your child:
After you read One Frog Sang take the opportunity to practice counting. You can create a graph to track the frogs, group little frog toys, draw ten frogs and cut them out, or make different colored fingerprint frogs like the ones here and count how many of each color you create.
If you're interested in sharing One Frog Sang with your child you can find it from Candlewick Press here. Please like them on Facebook and follow them on Twitter & Instagram for more inspiration.