My Teacher's Secret Life
Since August is the month where most children and families are enjoying their final days of summer break and preparing to head back to school, Raising a Reader National will post weekly book recommendations this month that parents can share with their children to help them get in the "Back-to-School" mode. 

FOR THE WEEKEND, check out our first book recommendation: My Teacher's Secret Life written by Stephen Krensky.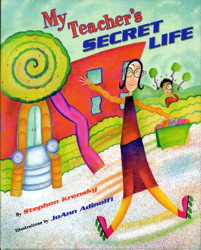 (1999, Aladdin Picture Books)
Summary:
Mrs. Quirk belongs in school just like all other teachers. But what happens when you see Mrs. Quirk outside on the weekend? Explore Mrs. Quirk's after school routine and discover her secret life.

Practice this Comprehension Strategy-Using Context Clues: 
In "My Teacher's Secret Life" your child will have the chance to see a teacher outside of school. They will use context clues to make predictions about what her secret life may hold. Your child will be able to mirror themselves in the school and can relate this story to their own teachers.

Discuss this with your child: 
Use the bright and quirky illustrations in "My Teacher's Secret Life" to ask your child what they see on the page. Find the circles and discover where they are repeated in the book. Find the similarities and differences between the school in the book and the child's own school. Ask them if they have any predictions about what Mrs. Quirk might be doing outside of school. Talk with your child about whether their own teachers have a 'secret life' and what might they be doing.


If you're interested in sharing My Teacher's Secret Life with your child, you can purchase it here.