My Teacher Can Teach… Anyone!
FOR THE WEEKEND, share this title with your child and use this book as a starting point to talking about what they've started doing or learning in school.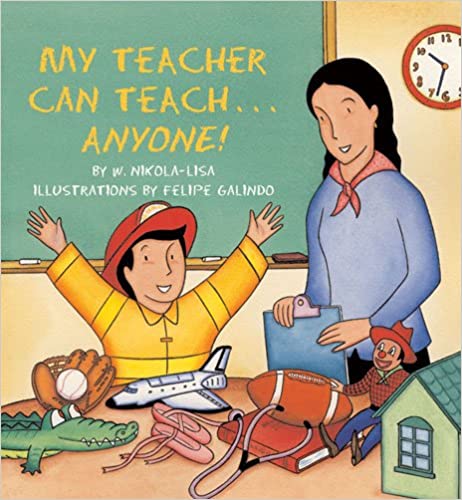 2004, Lee & Low
Summary:
"My Teacher Can Teach…Anyone!" takes you on an alphabet journey through all of the amazing things this special teacher can teach her students how to do.

Practice this Comprehension Strategy-
Picture Walk:
In My Teacher Can Teach…Anyone!, your child will have the chance to explore a diverse list of possibilities for all of the things they can learn this school year. Before reading any of the words in the story, take a picture walk through the book. Look at each page and talk about what your child sees. The colorful illustrations will lead the way for your child to make predictions about what each page may hold.

Discuss this with your child:
Each page in My Teacher Can Teach…Anyone! has a career laid out in alphabetical order; using that you can prompt your child to think about the word based on the letter and picture on the page. They can mirror their own classrooms in the classroom in this book, viewing the similarities and differences in all of the topics they learn about in school. You can ask your child which topics they want to learn about or what they might already know about the ones found in the story.

If you want to share My Teacher Can Teach…Anyone! with your child, you can find it here.