Music Everywhere!
FOR THE WEEKEND
, share this title with your child. We are celebrating the arts!
Music Everywhere!
is appropriate for children of all ages.
Summary:
Music Everywhere! 
highlights and celebrates the spectrum of music and instruments across the globe. Photos and text by Maya Ajmera, Elise Hofer Derstine, and Cynthia Pon feature real children in a range of cultures creating music. Read along to discover the different types of drums, stringed instruments, horns and voices which celebrate the power of music and transcend cultural differences. 
Practice this Comprehension Strategy-
Making Connections
:
As you read 
Music Everywhere! 
talk with your child about the different types of instruments and the sounds that they make. Do they play any of the instruments the children in the story play? After finishing the story, talk with your child about the types of music that they enjoy. Where do they hear music? Do they have a favorite instrument, a favorite song? By making connections to the story and the other children in the book they are able to both see their own life reflected in the expereinces they share as well as observe new experiences and relate to new perspectives.
Do this with your child:
Music Everywhere! presents the reader with a variety of instruments and different ways to create music. Check out this post from Meaningful Mama to learn how to make 20 diy musical instruments. Create an instrument or two with your child and enjoy the music!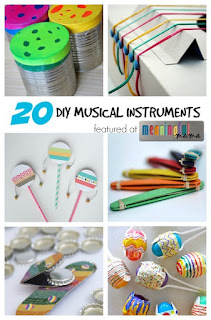 If you're interested in sharing Music Everywhere! with your child you can find it from Charlesbridge Publishing here. You can like them on Facebook and follow them on Twitter & Instagram for more inspiration.