Library Lion
FOR THE WEEKEND

, share this fun title with your child!
Library Lion is appropriate for ages 4 and up.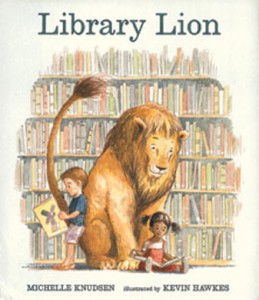 Summary:
In Library Lion from author Michelle Knudsen and illustrator Kevin Hawkes, a lion wanders into the library one fateful day and decides to stick around. Miss Merriweather, the head librarian, is very particular about the rules. But there are no rules about lions in the library. It seems a lion is well suited for a library, he quietly walks through the building, he helps children reach the books they need, and he doesn't roar (anymore.) But what happens when there's an accident and the only way he knows how to help is to break the rules?

Practice this Comprehension Strategy-Take a Picture Walk:
Before you read Library Lion walk through the pages with your child. Use the charming and expressive illustrations to ask them what they see on each page. After talking about what the pictures are, ask them to make predictions about what they think is happening. Then as you read, talk with your child about whether their predictions came true.

Do this with your child:
After reading Library Lion ask your child what their favorite part of the story was and why. Then have them draw a picture of their favorite part. You can also take a trip to your local library to see if there are any lions helping the librarians!

If you're interested in sharing Library Lion with your child you can find it from Candlewick Press here. Please like them on Facebook and follow them on Twitter.
For more from author Michelle Knudsen check out her website. For more from illustrator Kevin Hawkes check out his website.