How Do Dinosaurs Go to School
FOR THE WEEKEND share this title with your child.
How Do Dinosaurs Go to School is appropriate for school age children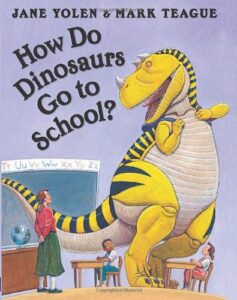 Summary:
How Do Dinosaurs Go to School from Jane Yolen and Mark Teague is a hilarious addition to the How Do Dinosaurs series. Silly rhyming text paired with bright and fun illustrations combine to create a fun read aloud masterpiece. Follow along to discuss how dinosaurs arrive to school and their behavior in and around the classroom.
Practice this Comprehension Strategy-Take a Picture Walk:
How Do Dinosaurs Go to School is a great book for taking a picture walk. Before you read, flip through the pages with your reader and ask what they're seeing on each page. Do they recognize types of dinosaurs, do they recognize things from their own schoolyard and classroom, what do they think might be happening? By engaging with the book before reading they'll develop a deeper connection to the overall experience. You'll love laughing along as dinosaurs are put into everyday situations!
Do this with your child:
After you read How Do Dinosaurs Go to School talk with your reader about their favorite parts of the story. Ask them what other things it might be silly to see a dinosaur doing. Have them draw a picture of their favorite silly dino scenario.
If you're interested in sharing How Do Dinosaurs Go to School with your child you can find it from Scholastic here.
Click here to learn more about Raising a Reader and the work we do to promote early literacy and family engagement.