Hoops
FOR THE WEEKEND share this title with your child.
Hoops is appropriate for children of all ages.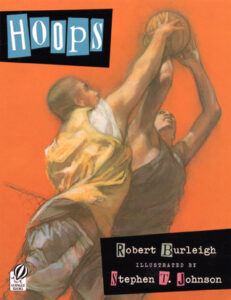 Summary:
Hoops is a poetic understanding of basketball, the experience of the game, and the beauty of teamwork. Feel the rough roundness of the ball. Celebrate the soaring freedom of the dunk. Savor the moment when all eyes focus on the long three-pointer. Author Robert Burleigh and illustrator Stephen T. Johnson beautifully bring the rhythm of the basketball court to the pages of this book.
Practice this Comprehension Strategy-Making Connections:
After you read Hoops ask your reader questions about their own experiences with basketball. Have they ever played the sport, do they play on a team, do they know the rules? You can also make connections about spectating: have they ever watched a basketball game, do they have a favorite team, etc.? Do they know or play any other sports? Use this book as a jumping point to learn about more sports that they might want to know more about.
Do this with your child:
After you read Hoops try out the sport together! You can try making baskets, passing, and dribbling the ball. Head to a local outdoor court or park, play on a mini hoop of your own, and have fun!
If you're interested in sharing Hoops with your child you can find it from Houghton Mifflin Harcourt here.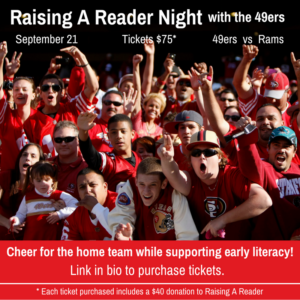 Click here to learn more about Raising a Reader and the work we do to promote early literacy and family engagement.