A Summer of Learning with National Indian Head Start Director's Association and Raising a Reader: The Power of Radical Collaboration
By: Michelle Torgerson, President and CEO, Raising a Reader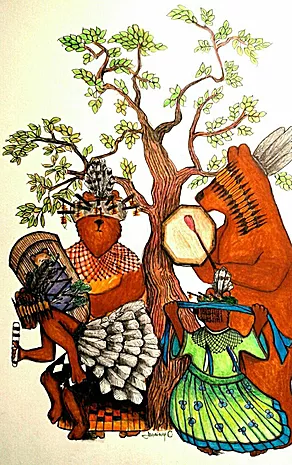 During the summer, the National Indian Head Start Director's Association, Zone 1 sites, Raising a Reader, and a generous funder came together to support children learning during the summer to activate summer learning in the home and prepare children for the school year ahead. Together, we enabled 921 children to participate in Raising a Reader's Super Summer Learning Adventures (SSLA) program , supporting families to build, practice and grow reading routines with their children.
The journey began during the peak of the pandemic when we partnered with the Tribal Child Care Association of California. Together, we customized Raising a Reader's SSLA program to cater specifically to tribal communities. The children and families received a specially curated book collection in which they could see themselves reflected in the stories and pages of the book, as identified by a culture committee representing tribal communities across the state.
Ms. Sarah Anderson, a teacher from the Spirit Lake Tribe's Head Start program, expressed her enthusiasm: "Raising a Reader's Super Summer Learning Adventures program was a game-changer for our little ones. The materials were engaging and culturally relevant, making learning exciting. The children and their families loved it!"
A participating parent shared, "I couldn't be more grateful for this opportunity. It kept my child engaged and connected us through books. This program strengthened my child's connection to their cultural roots with the special curated Tribal book collection."
This collaboration showcases the incredible possibilities that can be achieved when organizations unite to support young children and their families. It is a testament to the power of radical collaboration, proving when hearts and minds come together, the impact on children's lives can be immeasurable. Together, we built bridges and illuminated a path to a brighter future for the children we serve.
"Collaborations like this one remind us that when we come together, we can create transformative experiences for our children and their families," said Terri Stringer, Senior Manager National Indian Head Start Directors Association National Indian Head Start Director's Association.