A Place Called Kindergarten
FOR THE WEEKEND, share this fun title with your child!

A Place Called Kindergarten is especially appropriate for a child who will be starting (or has started) Kindergarten!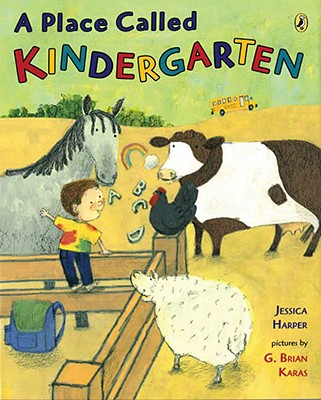 2008, Puffin Books
Summary:
The animals in the barn become worried when Tommy doesn't come to see them in the morning. When they find out that Tommy is in Kindergarten that doesn't help them much. What is kindergarten? Where is kindergarten? Will Tommy ever come back? Their anxieties are gone once Tommy returns home to tell them all about his first day of school.

Practice this Comprehension Strategy-Compare and Contrast:
Tommy lives on a farm. Help your child develop their comparing and contrasting skills by talking with your child about how Tommy's home compares to your own. Tommy is very excited to share his stories after his first day of Kindergarten. You can also help your child make text-to-self connections by asking your child if they are excited about going to school and what they think they will learn about.

Do this with your child:
Every page in A Place Called Kindergarten is adorned with charming illustrations of farm animals. Engage your child and make the book sharing experience interactive by making the sounds of the animals with your child as you read through the story.

If you're interested in sharing A Place Called Kindergarten with your child you can find it here.