Tilly's Staycation
FOR THE WEEKEND, share this summer title with your child.
Tilly's Staycation is appropriate for children of all ages.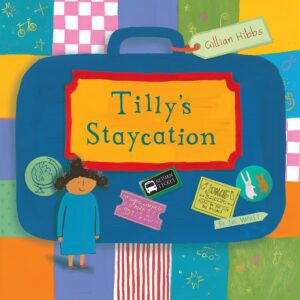 Summary:
Tilly's friends are all getting ready for their trips to Paris, to India and to go camping but Tilly is jealous that she won't have a trip on her own vacation inTilly's Staycation. Tilly's mom assures her that they will have their own adventures and that they will be just as, if not more, exciting. A reluctant Tilly isn't convinced, until her day begins with breakfast in bed! From there, Tilly and her mom spend the day filled with adventures and excitement having a grand staycation. Author Gillian Hibbs' adorable illustrations and fun story are a reminder that you can have an amazing vacation, even if you aren't going on an exotic trip!
Practice this Comprehension Strategy-Retelling:
After you read Tilly's Staycation ask your reader to take a turn retelling the story to you. Let them hold the book, flip the pages and narrate the story. Having already read through, they'll recall major events and characters and be able to fill in with their picture clues and their own imaginations. By interacting with the book in a more involved role, they'll have a deeper engagement in the entire book sharing process.
Do this with your child:
After you read Tilly's Staycation plan a staycation of your own! Make a list with your child of things you'd like to do together. Check out cheap/free local attractions like museums, parks, beaches, etc. and have your own grand adventure without having to travel too far.
If you're interested in sharing Tilly's Staycation with your child you can find it from Child's Play International here.
Click here to learn more about Raising a Reader and the work we do to promote early literacy and family engagement.