Over and Under the Snow
Share this winter themed title with your child!
Over and Under the Snow is appropriate for children of all ages.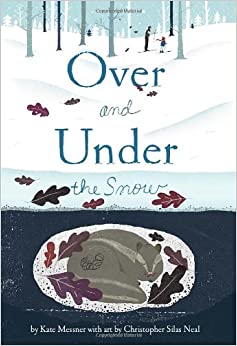 Summary:
Over and Under the Snow is a cozy story where a child and his father are skiing through the forest. Over the snow they glide while animals and insects rule the kingdom under the snow. Discover the animals that live safe and warm through the winter as they spend their days under the snow. Kate Messner's smooth and poetic words along with Christopher Silas Neal 's charming illustrations will keep readers comfy all winter long.
Practice this Comprehension Strategy-Retelling:
As you read Over and Under the Snow engage your child with the text and illustrations. Ask questions about the animals and what is happening on the pages. Then when you've finished reading the story, let your child take a turn. Hand them the book and have them 'read' the story to you. Can they remember the animals and what they're doing? Do they recognize any of the words? By being in charge of a retelling, your child will further their involvement with the text and deepen their interest in the story.
Do this with your child:
The family in Over and Under the Snow are on a winter adventure. They're taking a stroll through the forest and noticing the nature that surrounds them. After you read the story, head outside with your little one to have a nature walk of your own. Use your sight, smell, touch and hearing to interact with your environment. Then when you get home, use your taste to enjoy a special treat, just like in the story!
If you're interested in sharing Over and Under the Snow with your child you can find it from Chronicle Books here. You can like them on Facebook and follow them on Twitter for more inspiration.
Have you heard about The Great Book Challenge?