Amazing Autumn
FOR THE WEEKEND share this Fall themed title with your child.
Amazing Autumn is appropriate for children of all ages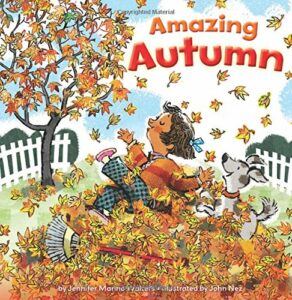 Summary:
Amazing Autumn from Jennifer Marino Walters and John Nez is the perfect book to cozy up with as the weather turns colder and the days turn shorter. Explore the season as the leaves change color, the weather cools down and pumpkins abound. You and your reader will enjoy the interactive nature of this fun fall book!
Practice this Comprehension Strategy-Take A Picture Walk:
As you read through Amazing Autumn is a perfect book for taking a picture walk. Before you read, flip through the pages with your reader and ask them ehat they see on each page. By engaging with the book before you even begin to share the words your reader will have a more impactful experience overall.
Do this with your child:
After you read Amazing Autumn take a walk outside with your reader and bring the book along with you. See if you can spot any of the signs of fall around you. Do you see leaves changing color? Do you feel the air getting cooler? Are there children in jacksets, or pumpkins on porches? Enjoy your fall spotting walk with a cup of hot cocoa!
If you're interested in sharing Amazing Autumn with your child you can find it from Lerner Publishing Group here

Stay connected with us on Facebook, Twitter, Instagram and Pinterest