All Kinds of Friends, Even Green
FOR THE WEEKEND, share this title with your child. We are celebrating differences!
All Kinds of Friends, Even Green is appropriate for children of all ages.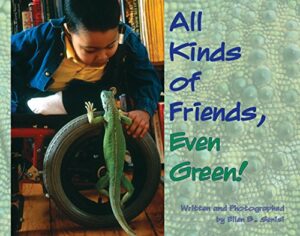 Summary:
When Moses' teacher gives an assignment to write about a friend, he carefully thinks about all of his options. He has friends in his class who make him laugh and play with him on the playground, he has grown up friends like his mom and dad and teachers, he has friends who are neighbors like his babysitter Kate. When he thinks about Kate he knows what to do! Kate has two iguanas who are also his friends, and one iguana, Zaki, is missing toes. He decides to write about Zaki because just like him, Moses also has special needs. While Zaki has to figure out how to maneuver with his missing toes, Moses has to do the same thing in his wheelchair. All Kinds of Friends, Even Green does a wonderful job celebrating the differences we see in our everyday lives. Author Ellen B. Senisi captures a wonderfully diverse environment where readers can learn that living with a disability can be interesting and positive.
Practice this Comprehension Strategy-Take A Picture Walk:
After you read All Kinds of Friends, Even Green is a delightful book to take a picture walk before reading. Flip through the pages with your reader and ask what they see on each page. This book is filled with photographs that capture a diverse classroom and neighborhood. Ask your child questions about what they're seeing on the pages, do they have any friends who look similar to the people in this book? By engaging with the book in a more interactive role your reader will be more invested in the entire book sharing experience.
Do this with your child:
Before you read All Kinds of Friends, Even Green ask your child if they'd like to write or draw a project about one of their own friends just like Moses did. Let them think about which friend they might like to write about and assist them only if they ask.
If you're interested in sharing All Kinds of Friends, Even Green with your child you can find it from Woodbine House here.
Click here to learn more about Raising a Reader and the work we do to promote early literacy and family engagement.